Australia is a commonwealth nation. What this means is the Queen of England (Queen Elizabeth II) is the official head of state. Other commonwealth nations include Canada, India, New Zealand, many Pacific islands, such as Fiji and Samoa, many African nations, such as Rwanda, Namibia and Mozambique and many others. The queen has no power in Australia and her role is only symbolic.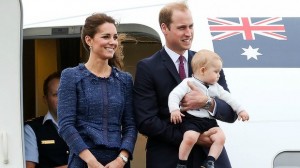 Members of the royal family make visits to Australia on a regular basis. This April the Queen's grandson, Prince William and his wife, the Duchess of Cambridge, Kate Middleton, and their 9-month old baby George are visiting Australia. During their visit they have visited the Blue Mountains and beautiful Manly beach in Sydney to see the sights and chat to 'nippers'. Nippers are children aged between 5 and 13 who learn about lifesaving. They also visited children in hospital. They paid a brief visit to Brisbane and then returned to Sydney for a visit to Taronga Zoo. After this they travelled to Uluru (Uluru used to be called Ayers Rock) and then Adelaide and then Australia's capital city, Canberra, for Anzac Day on April 25. Anzac day is a commemoration day to remember the people who died in World War I. We discussed Anzac Day in our previous post.
Many Australians are excited when the royal family visit and like to give them flowers or presents. However, many other Australians are uninterested in the royal family and would prefer not to be a commonwealth nation. They wish that Australia would cut ties with the monarchy and become a republic.
Vocabulary
Commonwealth: イギリス(英国)連邦
Head of state: 首脳
Symbolic: 象徴的
Lifesaving: 海の監視員(ライフガード)
Capital city: 首都
Monarchy: 君主制
Republic: 共和国